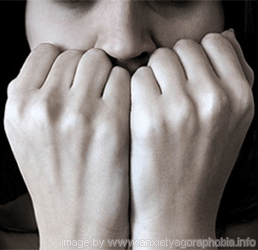 Image by www.anxietyagoraphobia.info
And so comes to the point where I began telling this story, the beginning of this blog.
I sat on an airplane, hand in hand with my husband, filled with anxiety. We were flying to another state to see if we wanted to move our family there for the next 20 years.
I am not the adventurous type.
Sure I dove into a pool of water at the base of a freezing cold waterfall in Yosemite, but that was before I was married. I was trying to be adventurous to win the heart of the man I sit next to now. Win the man, lose the adventurous spirit. I think that is common.
We were flying to see what it was like to live in the country.
This place where we were going is of significance to me. It is important to my origins, as I have been told. My mom likes to tell me I was conceived here. Every time she tells me, my stomach regurgitates anything that might be lingering within it. What kid wants to hear that much information about their conception? I am here. How and when I got here is of little significance to me.
We were going to visit and stay with Jeff, my "second cousin once removed", and his wife Carrie. (My mom is a lineage "expert", so Jeff is not simply my cousin; he is my second cousin once removed, so let's make sure we get that straight.) Jeff's wife, Carrie, was the one whom I had just met when she came to visit my mom in California.
I had agreed with my husband to look. "Let's just see what is out there," he said looking at me with his soft brown eyes. "Okay, but we are just going to look." I had to make that part clear.
We had one year to come to a decision as to where to move this little family of ours. As much as I wanted to procrastinate, we decided we needed to start looking.
We had initiated by making a list of all possible places to move where we would even consider.
Dan: We don't know anyone.
Dan: How about the state your parent's conceived you in?
Janna: That's gross, Dan.
So when Carrie had offered to let us stay at her house, my husband was excited to take her up on her offer. It made sense. I did have family there, and we would have a place to stay. "Alright, let's try there first," I nervously answered. I had felt better before, when we couldn't decide on a place to visit.
And so I sat there in an airplane stuffing my face with dark chocolate, my mouth completely full when I heard the flight attendant's voice, "Would you like a beverage?"
The question was aimed at me, but with a mouth full of chocolate, "Whawtaw," is the only answer I could muster. My husband clarified, "She said, 'Water.'" I smiled as she handed me the water, not realizing that dark chocolate lined all of the spaces between my teeth. I saw her look at me and then look away quickly, uncomfortably.
"Are you nervous," I asked my husband as I sat there, knees bobbing up and down wildly.
"No, are you?" He answered sarcastically.
I smiled, the crevasses of my teeth still filled with dark brown yumminess.
"Oh, I am fine," I said as I could feel nausea overtake my body.
I suffer from motion sickness and maybe a little nervousness.